Wouldn't it be absolutely amazing if there were super foods that you could eat to keep you healthy, support the healing process and help you to lose weight? Well the good news is that there is! There is a special group of foods that nature provides us with that can not only contribute to health and wellness but can also fight sickness and disease.
Super foods can help you to stay on track with your weight loss goals and they fill you up easily. They also taste good and can be incorporated into your meal plan with ease!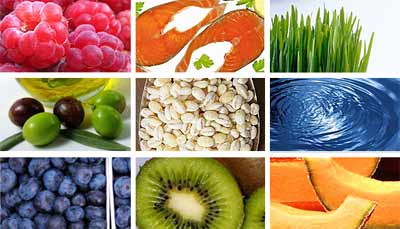 Here are 5 super foods to stay healthy (not in any particular order as they are all vital for your health!):
1. Broccoli
Broccoli is one of the top rated veggies and starts our list of the 5 super foods to stay healthy. It is a rich source of vitamins, A, C and one that is not often talked about, K. It is full of fiber and is available all 12 months of the year. The fiber found in broccoli helps to maintain an ideal weight. This green veggie is also a good source of beta-carotene.
2. Salmon
Oh, the richest of the sea! Another one of our 5 super foods to stay healthy is salmon. Salmon is a fatty fish that is high in omega-3 fatty acid which studies have shown is very good for the heart. It is low in calories and is high in protein. Salmon is also a good source of iron which spells healthy things for the blood. This fish is low in saturated fat. It is recommended by the American Heart Association that fatty fish such as salmon are consumed at least twice a week.
3. Nuts
If you like to get a little nutty sometimes then do not let the fat content in nuts stop you! Nuts are another one of the 5 super foods to stay healthy. Nuts sometimes get a bad rap however because they are high in the fat they contain. But the important thing to remember is that it is the good fat that they are high in, which is to say monounsaturated fat that helps to protect the heart. Nuts keep cholesterol levels normal and they promote a healthy weight. They are high in antioxidants, fiber and protein. So whether you are an almond, cashew, pistachio or walnut lover, enjoy your nuts but do so in small quantities!
4. Beans
Beans are also a super food that you should eat more of. They are healthy for the heart and they are a rich source of both soluble as well as insoluble fiber. The former helps to rid the body of toxins and waste while the latter keeps cholesterol levels at a normal level. Beans are a top source of protein, potassium, magnesium and carbohydrates. In particular, whole soybeans (also known as edamame) are healthy because they contain omega-3 fatty acids.
5. Berries
Berries are the bomb when it comes to the 5 super foods to stay healthy! They pack a wallop when it comes to your nutritional needs! Berries are rich in antioxidants and phytonutrients. They are high in water and fiber content but are low in calories, plus they taste wonderful! Blueberries are the absolute best choice with strawberries coming in at a close second.